The Great Outdoors II Digital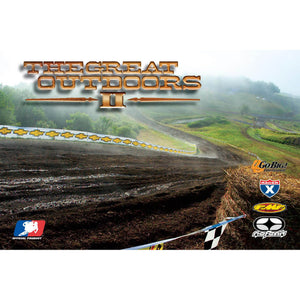 "The Great Outdoors II" is the highly anticipated sequel to the acclaimed documentary "The Great Outdoors 2002". Shot again on 16mm film and with state of the art digital cameras to capture all the emotions and drama on a moto by moto basis. Over 400 hours of footage from the 2003 AMA National Championships Series was painstakingly edited and narrated to give you the most inside point of view of what it's like to compete, win and lose this championship.

The 2003 National series was by far the most awaited series in years. With renowned rider Kevin Windham back on the scene intense combat was inevitable. Watch as Windham strives to break Ricky Carmichael's victory streak. And listen to testimonies from other top racers, mechanics and respected industry leaders about his uncompromising series that is the AMA Outdoor National championship.
Note: After purchase you will receive an email with access to the video.