TGO The Constant War Special Edition Digital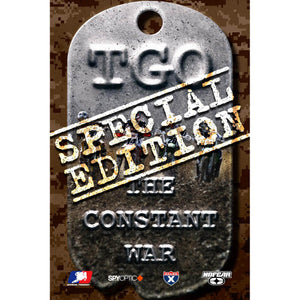 As a type of post-script to TGO, The Constant War, the producers of the highly acclaimed motocross DVD series now offer the Special Edition.

With over 100 hours of unused footage on their hands after completing The Constant War, director Troy Adamitis and his production crew have continued to move forward to create the Special Edition. Shot on both HD and 24p cameras, Special Edition picks right up where The Constant War left off.

Every bit as much as TGO, the Special Edition takes the viewer past the security guards, through the pits, inside the trucks and into the lives of the people who make the sport go on any given Sunday.

Hop on as the Special Edition takes you on a wild joy ride that begins at Hangtown 2006 when Grant Langston and Mike Alessi crash in the final turn of the first moto and scramble in the dirt and dust to get to their feet, get their bikes running, and to the finish line first.

Far off the beaten path, the Special Edition's camera crew takes the viewer along on a visit to Broc Helper's home nestled in the rolling pastoral hills of Pennsylvania where the talented young racer shows just where he came from and where his odyssey in motocross stardom began.

The Special Edition also offers up never before seen race action from the summer of 2005. Some of the most memorizing footage comes from the unforgiving cocoa brown sands of Southwick, Massachusetts. Captured through a number of super slow-motion sequences, Motocross 338 displays just how brutal and exhausting the sport can be to its athletes.

And the mechanics are featured front and center in the Special Edition as film crews follow Mike "Goose" Gosselaar and rival mechanics Brent Miron and Jonathon Hoodie. It doesn't very take long to see that big-time motocross is not all glitz and glamour as the determined tuners are put under tremendous pressure and strain.

Finally, the Special Edition also includes alluring footage of James Stewart's rookie season. In the segment, Stewart, as well as Ricky Carmichael and Kevin Windham, provide insight on just what it takes be the very best of the best. Blend in compelling story lines centering upon Davi Millsaps at Hangtown, Yamaha factory rider David Vuilleman, and working class privateer hero Nick Wey, and you have a film which will keep its viewers mesmerized each time it spins through their DVD players.

Note: After purchase you will receive an email with access to the video.