TGO The Destroyers Special Edition Digital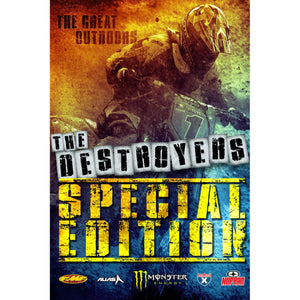 A complete contrast to TGO The Destroyers, Special Edition, uncovers the personalities and perseverance of our MX heroes. Instead of asking the question, "Who was the winner?" This film asks, "How do these athletes think?" The outdoors is, without a doubt, the most grueling series on two wheels. Over the course of another scorching summer, the elements chopped down menu of the best racers in the world. For a few, it was triumphant... but for most... it was tumultuous.

The footage of James Stewart and Ryan Villipoto does not lie; THEY were the destroyers. The men left in their wake... riders such as Tim Ferry, Ryan Dungey, Mike Alessi, and Andrew Short, are a testament to true grit. They left nothing, and lived to tell about it. The Spirit and charm of the lesser known racers, however, are showcased in the teams of Joe Gibbs Racing, City Suzuki, and Wonder Warthog Racing. The Passion and desire of ALL these men will remind us why we throw a leg over our bikes time and time again. This is TGO: The Destroyers Special Edition. Enjoy and Repeat.
Note: After purchase you will receive an email with access to the video.