The Great Outdoors II Special Edition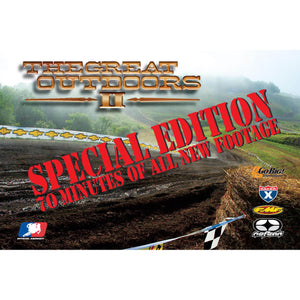 There is always more to a story...

The second edition of The Great Outdoors gave motocross fans of what it was like to experience the sensational 2003 National Championship Motocross Series from an up-close and personal perspective. Now, the directors and producers of The Great Outdoors have created an all-new version of their epic documentary. which features well over 70 minutes of never before seen on and off track footage. Experience first-hand, all the sweat, drama and dedication of what it is to be a true privateer on the National Championship circuit. Witness the emotion and mayhem that goes on not only between rider and mechanic at a national, but between the rider and machine, as well. The New Great Outdoors 2003 Special Edition is a motocross film more than worthy of a special place in your motocross DVD collection.